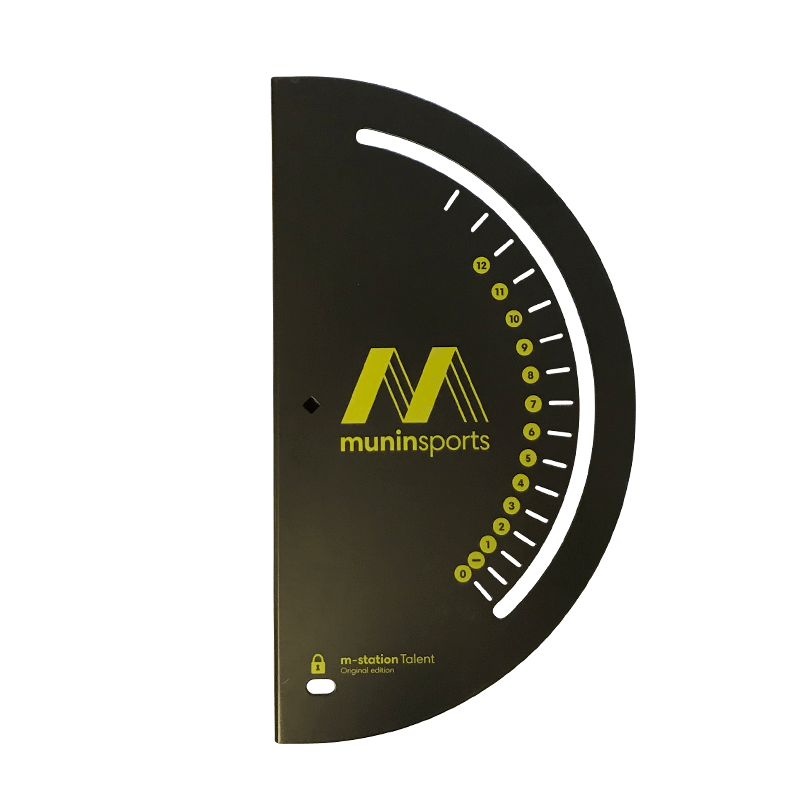 Part 8 | Angle Adjustment Plate
---
The angle adjustment plate is the part that is shaped like a  half-moon and enables you to place your m-station on 12 different angles. You can distinguish the two angle adjustment plates via the graphic located on the side of them. Numbers T8, C8 and A8 have a printed logo on the side.

Angle adjustment plate (Munin logo)
Check which m-station you have before you select the angle adjustment plate needed for your specific m-station model below.

T8 Angle Adjustment Plate for m-Station Talent

C8 Angle Adjustment Plate for m-Station Club
A8 Angle Adjustment Plate for m-Station Academy

Pictures of the parts listed above can be found in the parts and tools overview in the assembly manuals for m-station Talent, Club and Academy.

How to assemble?

The Angle adjustment plate is mounted on the back of part 4 (T4, C4 or A4, depending on the model), with 4 screws: T16, C16 or A16.


View the video manual or check chapters 7 and 8 in the Assembly Manual.

If you have any questions, do not hesitate to contact us.